[ad_1]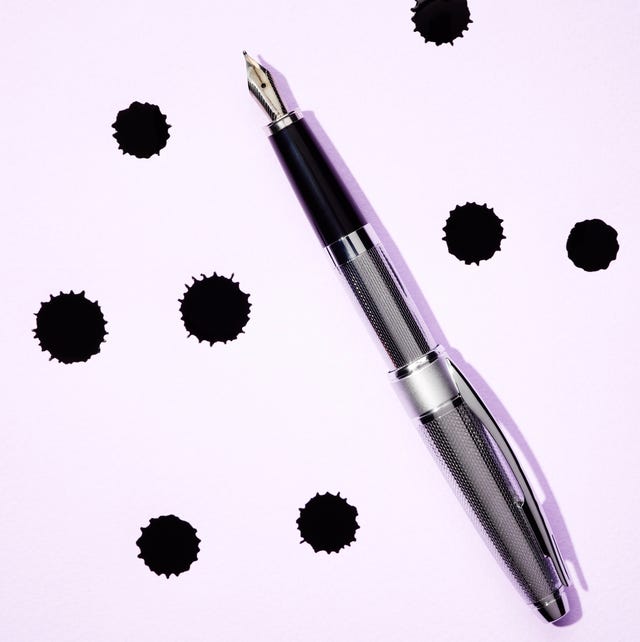 Jeffrey CoolidgeGetty Images
Whether you inadvertently grazed your sleeve while jotting down a message or your pen-obsessed toddler got to your laundry pile before you did, don't fret: Carolyn Forte, Executive Director of the Home Appliances & Cleaning Products Lab in the Good Housekeeping Institute, has two simple methods to remove ink stains from clothes, stat.
Different ink stains require different care, so make sure you follow the appropriate how-to guide depending on if you're trying to remove ballpoint pen or felt-tip pen ink. Both of these methods should only be used on washable fabrics. Take ink-stained garments that require dry cleaning, to a professional.
The Good Housekeeping Institute has put many stain removal methods to the test over the years, from wine to sweat. These two methods for ink stain removal are not only easy — they actually work.
How to Remove Ballpoint Pen Ink
Good news: Fresh ballpoint ink is the easiest type of ink to remove from washable clothing like cotton blouses and denim jeans. Follow these instructions to make your clothes look like new again. As with any stain, the quicker you get to it, the easier it will be to remove.
Place a paper towel under the stain and flush it with rubbing alcohol.
Use an eyedropper to apply alcohol directly onto the stain or, for a larger spot, pour the alcohol into a small dish, immerse the stained area and soak for 15 minutes. The ink should begin to dissolve almost immediately. Continue sponging and blotting the stain until no further ink is released from the fabric.
Rinse under cool water, apply a pre-wash stain remover, like Shout Advanced Gel, and wash the garment on the hottest setting with a bleach that's safe for the fabric — opt for a color-safe formula for colored clothes. Check that the ink is completely removed before tossing the item in the dryer.
---
How to Remove Felt-Tip Pen Ink
Removing felt-tip ink is a bit more time-consuming — but not impossible, as long as you follow this guide.
Rinse the stain under cold water to flush out as much of the ink as you can.
Fill a basin with hot water and pour in a bleach-free, liquid laundry detergent, like GH Seal star Tide. The amount you'd use to hand wash a blouse should do, plus a couple of splashes of ammonia. Stir the solution and immerse the garment. Give the stain a rub with your fingers, and let it soak for 30 minutes to an hour.
If it's a stubborn stain, let it soak overnight, giving it a rub every so often. Soon you'll see it starting to fade. To help it along, mix up a fresh solution or add a bit more ammonia. When the stain is gone or lightened as much as possible, rinse the garment, rub in a bit more liquid laundry detergent and wash as usual. As with any stain, air-dry the garment until you are certain the stain is completely removed. Putting it in a hot dryer will set the stain, making it harder to remove.
---
How to Remove Old Ink Stains
If you've realized a bit too late that the shirt you're folding fresh out of the dryer has an ink stain you forgot to remove or you've let a fresh stain sit a bit too long, don't worry. You may not be completely out of luck. In this case or if you've been unsuccessful with the methods above, turn to stronger commercial stain removers. For old, dried, set-in ink stains, try a commercial product formulated specifically for ink, like Carbona Stain Devils #3 or Amodex Ink & Stain Remover. These products contain ingredients to target all types of ink. Just be sure to follow the label directions when using them and test them in a hidden spot first to be sure they are safe for the fabrics you are treating.
---
How to Get Ink Out of Leather
If your pen accidentally brushed up against your purse, don't worry. Just dip a cotton swab in rubbing alcohol and lightly rub the stain to wipe away the marks. If your purse has a shiny patina or a glossy surface, it's probably been coated in a leather protectant and should be easier to treat.
Try a commercial product designed specifically for cleaning leather, like Good Housekeeping Seal star Weiman Leather Cleaner & Conditioner. If that doesn't work or your purse is made of unfinished leather, take it to a dry cleaner that specializes in treating leather. To make marks, like ink, easier to remove the next time, apply a leather protectant, like GH Seal star Furniture Clinic Leather Protection Cream, to purses, sofas and other finished leather items.
---
Can you use other DIY methods to get ink out of clothes?
Over the years, hairspray has earned a reputation for removing ink stains, because of the alcohol in its formula. However, many of today's sprays contain less alcohol, so they aren't as effective on ink stains as older formulas may have been, plus you still have to deal with removing the sticky hairspray residue. Other DIY methods that you may have seen touted as effective ink removers include vinegar, toothpaste and even hand sanitizer. Though the alcohol in hand sanitizer may budge it a bit, we've never found any of these alternatives to be effective. If you really want to tackle ink, stick with the above options.
This content is created and maintained by a third party, and imported onto this page to help users provide their email addresses. You may be able to find more information about this and similar content at piano.io
[ad_2]

Source link