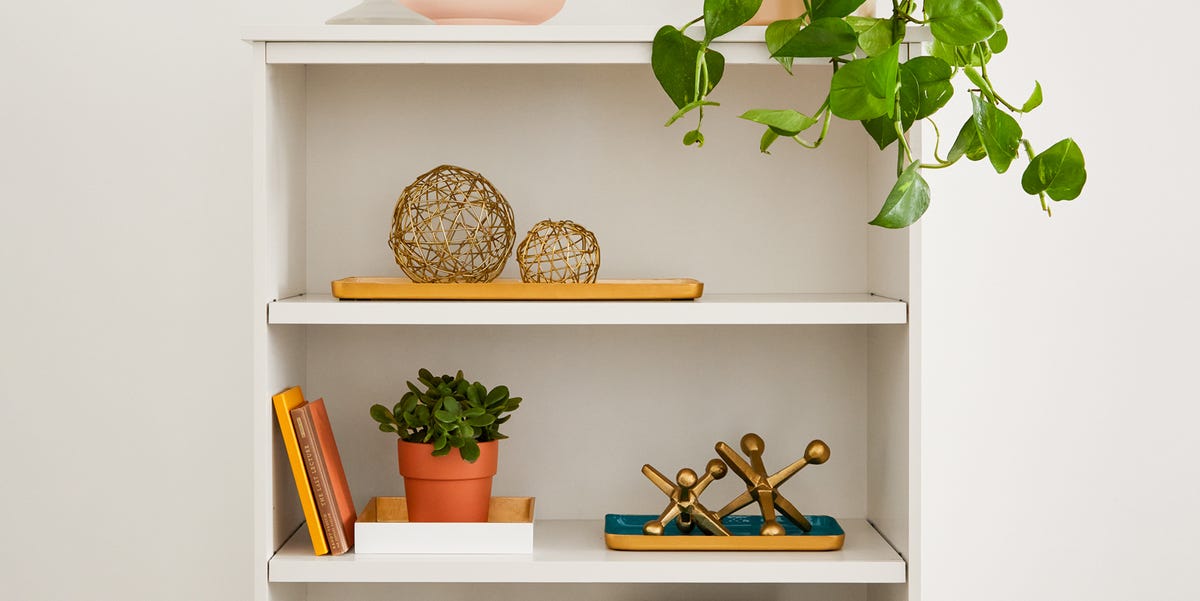 [ad_1]

Shelves are the unsung heroes of home design; they do it all, from showcasing treasures to corralling chaos. Whether you're looking to maximize storage space in a city apartment, or want to proudly show off your plant collection in a spacious sunroom, adding a few shelves to any space can be a great way to declutter and bring interest to virtually every part of your home.
If you're ready to take your display game to the next level, read on for five smart — and stylish — shelving tips from Los Angeles-based interior designer Hema Persad, plus ideas for what to stock up on from The Home Depot (bonus: You can shop everything online!).
Select complementary elements for a cohesive look
By definition, shelves bring together disparate options—vases, frames, coffee table books. In order to make sure all of these items stick together, Persad has some key words of advice. "Choose a color palette and stick to it," she says. "Choose no more than three main colors — for example black, white and green — and make sure all of the items you're displaying fall within these color families."
You'll get a similar effect by working within the same design references; if your style is rustic, you have a weakness for all things Mid-century Modern, or you love Art Deco, let that aesthetic guide you. That way, says Persad, "no matter what's on each shelf, everything seems like it belongs together without looking too matchy-matchy."
Banish clutter to create more space
When you're using shelves as display space or decor similar to wall art, less is definitely more. Persad advises that wall-mounted shelves should definitely have some blank areas. "If I am styling a set of shelves, I'll typically do one with three or four items on it, and the next one down or up might have one statement item on it," she explains. "You have to give your eyes a chance to rest on something."
Above all, she says to listen to your own instincts. If you feel anxious when your eye lands on the shelf, it's a sign to edit your collection.
Turn storage containers into stylish decor
If you've got a lot of stuff to wrangle, "baskets and cute stacking boxes are your best friends here," says Persad. "They can be used to corral items like photos, trinkets, or games," reducing the amount of objects on display while still keeping all of your beloved things handy. You can also rotate souvenirs in and out of the boxes to mix up your decor when you're ready for a change; think of your home as a gallery with seasonal "exhibits."
Trays are another fun addition to shelves — in bedrooms, use them to show off a pretty collection of perfume bottles (and keep liquids from dripping onto, and staining, your furniture). In the kitchen, arrange some of your most colorful spices on trays as art you can use.
Bring your shelves to life with plants
If you have a green thumb, shelves are an ideal way to display that plant collection. (And if you don't have plants already, consider starting with one or two to bring greenery and oxygen into your home—or go for faux.)
For maximum impact and healthy foliage, choose plants based on the shelf location. "Pothos and other trailing plants tend to do really well on shelves because they don't need a lot of water or light, and they trail as they grow instead of getting taller," says Persad. "If your shelf sits high on the wall and beyond arm's reach of a window, think about going for a faux option or a succulent like a string of pearls or a small echeveria."
Save some headspace above your books and objects
When assembling shelving, "I leave a minimum of 16 inches between shelves, which leaves enough room for taller items. You want that variation on heights of things to add interest," Persad explains. "If there's not enough space between shelves, you end up with a bunch of short items which can fall flat, visually."
A certain amount of blank space serves as a frame, spotlighting the objects on display and making the whole room look more serene.
[ad_2]

Source link