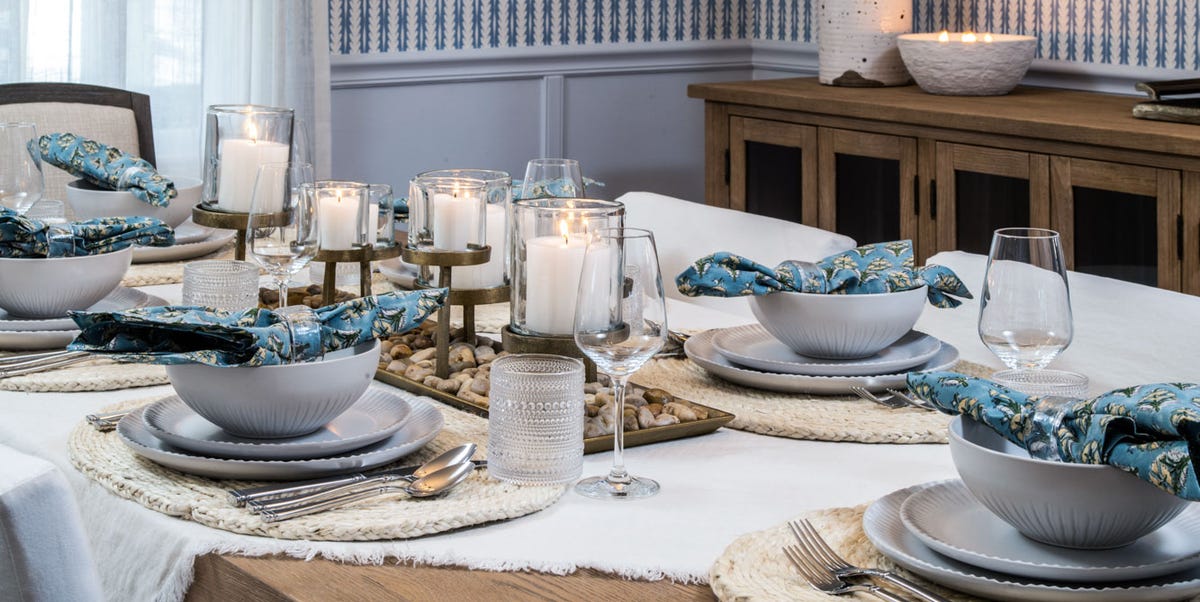 [ad_1]

When my family and I moved from New York to New Jersey last year, I knew revamping our dining room would be one of the first decorating projects to tackle. Much like the kitchen, the heart of the home, it's a high-traffic space that should be outfitted with durable, kid-friendly furniture, the right entertaining essentials and stylish decorative accents.
With the help of Pottery Barn, which provided the furniture and decor featured, we were able to pull it off in a snap. One of the brand's lead design specialists and home stylists, Daniel Nunez-Daly, was on-hand during every step of the design process, from offering product suggestions to helping us arrange the items in our space.
Now that the makeover is complete, I'm sharing the tips I learned along the way to help inspire your next room revamp.
Choose the right dining set.
The first order of business was finding the right dining table to set the foundation for the room. While our family is small and our dining room is quite compact, special occasions, holidays and impromptu guests create the need for more seating. The fix? The Portola Dining Table. The extendable oak design, boasting a rectangular shape, doesn't take up too much space day to day, and it can comfortably seat up to 10 people whenever the need arises. We paired it with the Haven Braided Jute Rug for a dose of coastal style. Jute is low-maintenance (a must living with children) and it's brilliant at masking the inevitable stains.
Rather than go the traditional route of pairing the table with dining chairs of the same style, we chose a mismatched look for more visual appeal. The classic Adrian Dining Chairs are at the heads of the table and white slipcovered chairs (PB Comfort Square Long Slipcovered Dining Side Chairs) surround it. I'll admit that I was extremely nervous about choosing white slipcovered chairs, but the performance cotton twill is easy to clean. Our kids' tiny fingers have touched the chairs with everything from ketchup to pancake syrup, and simply tossing them in the wash instantly makes them look like new. The woven fabric is a nice touch, too.
Invest in timeless tabletop items.
Creating eye-catching table arrangements is where my personal style really shines. I've always leaned more toward minimalist plates, glasses and silverware. The Ridge Textured Stoneware Dinner Collection is right up my alley, as are the Jupiter Hobnail Drinking Glasses and the Riley Flatware."You can make it look high-end for an amazing dinner party or use it every day," Nunez-Daley says. "It's transitional." To balance the understated nature of the dishware, we chose statement napkins — the Shyla Blue Block Print Cotton Napkins, which come in a set of four.
A double-duty buffet can work wonders in a small space.
A versatile buffet, like the bestselling Toscana in the Seadrift finish, was non-negotiable for us. It's great to have enough tabletop space to serve a large dinner, buffet-style, of course, but it's even better to also have ample storage for our ever-growing collection of dishware. Behind three sets of doors, there are adjustable shelves that can be used for dishes and even kitchen utensils that aren't needed on a daily basis.
When the top of the buffet is not in use, I have fun styling it with things like oversized candles, faux florals and greenery. It's the perfect piece for seasonal decor and has been an all-around win for entertaining.
Be mindful of light sources.

Lighting really impacts my mood, especially during the winter months. For that reason, it was important to choose colors and decor that keep the space feeling light and bright. White sheer curtain panels, the Reese Metal Linear Chandelier along with the 36-inch round mirror, shown above, were the solution.
---
Every moment my family spends in our refreshed dining room is a joy. From completing homework with our kids to sharing Sunday morning breakfast, we finally have a well-designed space that is made for memories.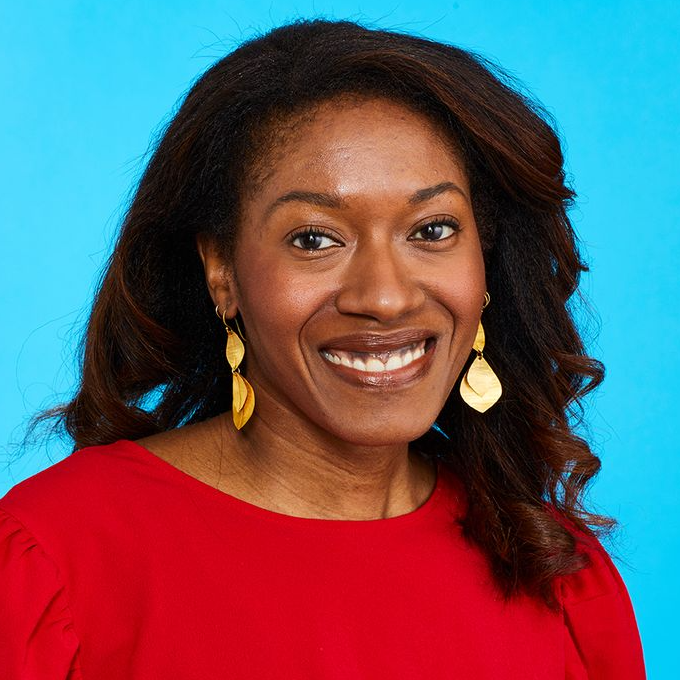 Senior Home Editor
Monique Valeris is the senior home editor for Good Housekeeping, where she oversees the brand's home decorating coverage across print and digital. Prior to joining GH in 2020, she was the digital editor at Elle Decor. In her current role, she explores everything from design trends and home tours to lifestyle product recommendations, including writing her monthly column, "What's in My Cart."
[ad_2]

Source link