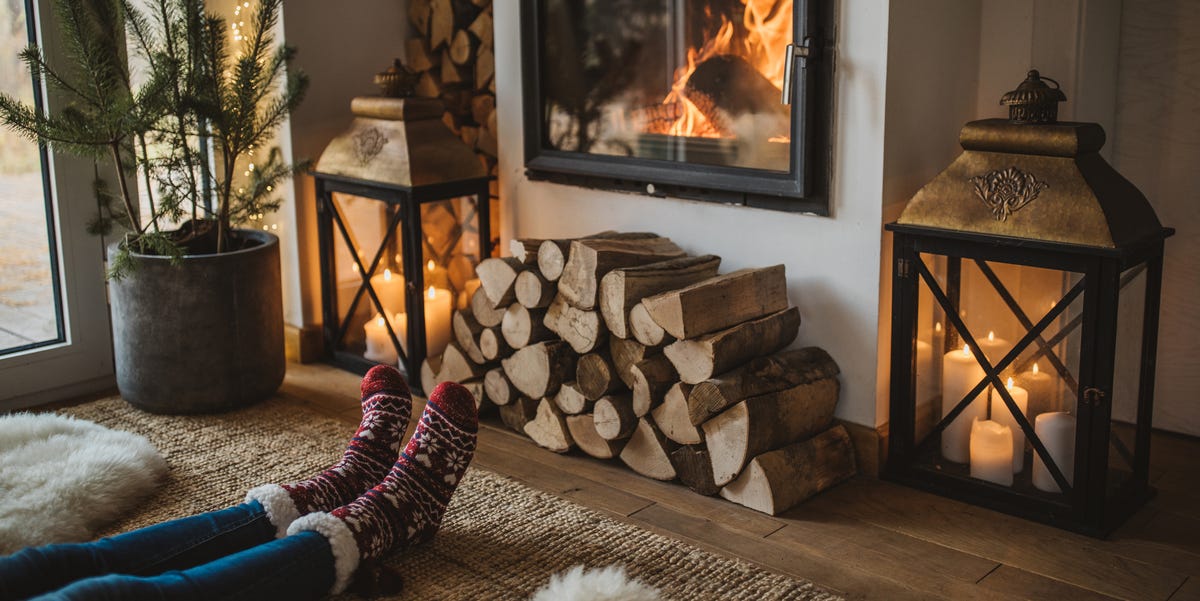 [ad_1]

When the leaves shift from green to orange and you begin to pack away swimsuits in favor of chunky sweaters, it's time to give your living room a little refresh, too. While your porch or stoop begs for pumpkins and rustic wreaths, interiors call for rich textures, saturated tones, and spicy scents that bring to mind crackling fires and freshly baked apple pies.
For tips on how to bring the welcoming energy of the season into your interiors, we tapped Louisiana-based interior designer Lance Thomas. From quick and easy arrangements to plush and welcoming living room decor, each of his ideas will help you savor the season.
Rotate fabrics to bring on the cozy
"Textures are the first thing I would swap out," says Thomas. "Crisp and cool linen throws can be replaced with heavier cable knits and wools."
Stock up on a selection of affordable and comfy blankets in complementary colors and patterns (like solid ochre and a simple plaid) and fold them neatly in a basket by your sofa. The move adds a touch of texture without feeling weighty.
Switch up your home's signature scent
When making a summer-to-fall transition, Thomas suggests you lean into the impact scent can have on your home. "Swap out candle fragrances seasonally," he suggests. At this point in the year, "Sea salt candles have reached the end of their burn and it's time to bring in muskier leather and black pepper fragrances to cozy up the space."
Bring in the colors of the season
Yes, fall leaves are a trusty go-to. But they're not your only options for color palette fodder. "This year, I'm feeling inspired by fall cocktails for my home accessories and paints," says Thomas. "The deep, sexy red of mulled wine, golden hues of a barrel-aged whiskey, and muted green of a pear martini, to name a few."
Classics like the cinnamon and pumpkin tones of seasonal spiced lattes will also never go out of style. To add a little bit of edge, set off all those warm tones with a moody navy area rug in a plush pile, a deep velvet armchair, or an overstuffed ottoman that invites putting your feet up.
Turn to dried flowers to beat any heat
As a designer based in the South, Thomas understands the plight of loving fall but not actually feeling those crispy temperatures until the final days of the year. Whether you're facing the same latitude issue, or simply experiencing an unseasonably warm October up North, Thomas suggests making the longer growing season work to your advantage.
"Our location allows beautiful botanicals to extend their stay in the garden," he says. "My go-to is saving all our fresh hydrangeas well after they have dried up and using them for fall arrangements. Dried florals are the perfect decor for getting in the autumn spirit when it still feels like summer outside."
Think outside the pumpkin patch
Some people love to go all in on Halloween cobwebs and Thanksgiving cornucopias but don't feel like you have to limit yourself to holiday themes. "Incorporate seasonal fruits, which are a bit less on the nose than a pumpkin," suggests Thomas.
Some equally festive, but more unexpected, options for living room mantles or window sills include mottled Asian pears, vibrant persimmons, dusky purple figs, and even orange and red peppers.
Celebrate the season
When fall holidays do roll around, choose simple, elegant elements that remind you and your guests what the season is all about — warmth, togetherness, and appreciation for the beauty of nature.
"Avoid overworking arrangements and decor," says Thomas. "It should look effortless. Simply cut a branch, for example, and stick it in a vase of water. Show the intention, not the labor."
To make the most of this beautifully simple philosophy, seek out vases, jugs, and vessels with narrow openings, which helps hold a single branch or a few stems upright.
[ad_2]

Source link