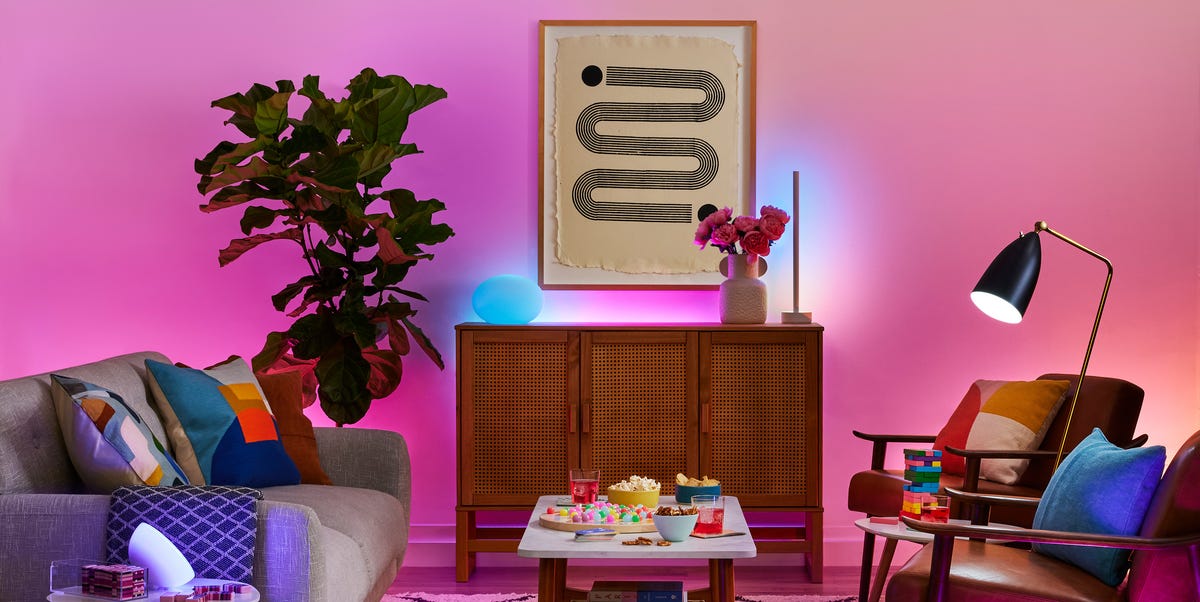 [ad_1]

Whether it's checkers, a classic 'round-the-board-style game of strategy, or an all-hands-on-deck team event, a game night is a great way to turn an ordinary Friday night into an epic battle for bragging rights.
But to make game night legendary, don't just throw down a board game and rip open a bag of pretzels. With some fun lighting from Philips Hue, the right accessories, and a few unexpected touches, you can take even a casual get-together to the next level. Here's how to make your next game night a winner.
Set the stage
While your typical entertaining mantra may be "the more, the merrier," when you're hosting a game night, you need to consider the game and how many players are optimal before sending the invites. Think about whether it's something you could play in teams, and consider who would bring the best vibes (sore losers or overly competitive types can bring down the mood).
Once it's time to email or text out the invites, snap a picture of what you'll be playing and send it to your friends so they can get their game faces ready.
Customize your lighting
You want to design a game night lighting scheme that won't require you to spend the whole evening rushing around your living room turning lights on, off, up, and down. You can sync up to 50 lights and accessories with the Philips Hue Bridge and control everything from the app on your phone.
Tap into the 16 million (yes, really) colors and shades of white available in Philips Hue bulbs and lamps by creating preset scenes for different stages of the night: warm orange and pink for the welcome, blues and purples for the competition, a kaleidoscope of colors to celebrate the winner. To keep things even simpler, use the Philips Hue Smart Button, which dims and brightens lights with a simple click — a must-have for trivia buffs who insist on a no-phones policy.
Keep it comfy, yet elevated
Mix things up by moving the center of the party from the dining room table to the coffee table for a more relaxed vibe. Choose a colorful assortment of cushions to set on the floor to keep guests comfortable. You'll have to clear off your perfectly styled coffee table books and objets d'art, so make the game itself part of your decor.
Many board games come in luxe editions made with real wood and leather accents. If cards are the game of choice, choose an artsy or colorful deck. Extra games, like hand-carved tumbling blocks or a vintage backgammon board, make for stylish accents and also give guests something new to play when the main event is over.
Spotlight key areas
Make things feel special by shutting down the overhead lights and using Philips Hue table lamps to illuminate key parts of the room. Set a Philips Hue Flourish globe next to the snack table for a colorful glow; use a Philips Hue Go to highlight the game table; and spotlight the prize with a Philips Hue Iris — even a stuffed animal will look like an Academy Award with the right lighting.
Focus on finger foods
When it comes to the menu, focus on snacks your friends will be able to eat with their hands — think a gorgeous charcuterie display, mini samosas or seasonal skewers with fruit and veggies. Popcorn and pretzels even have a place when served in chic bowls. Look for dishes made from melamine, a durable material that won't scratch or shatter if accidentally dropped.
For drinks, make things feel fancy by setting up a DIY soda and seltzer bar with fresh herbs, syrups and sliced citrus. Place a sturdy set of acrylic glasses in bright primary colors and add a handful of reusable straws with a kitschy bamboo look.
Art direction and production by Arminé Altiparmakian and Sabrina Contratti. Photography by Cody Ulrich. Prop styling by Karin Olsen.
[ad_2]

Source link