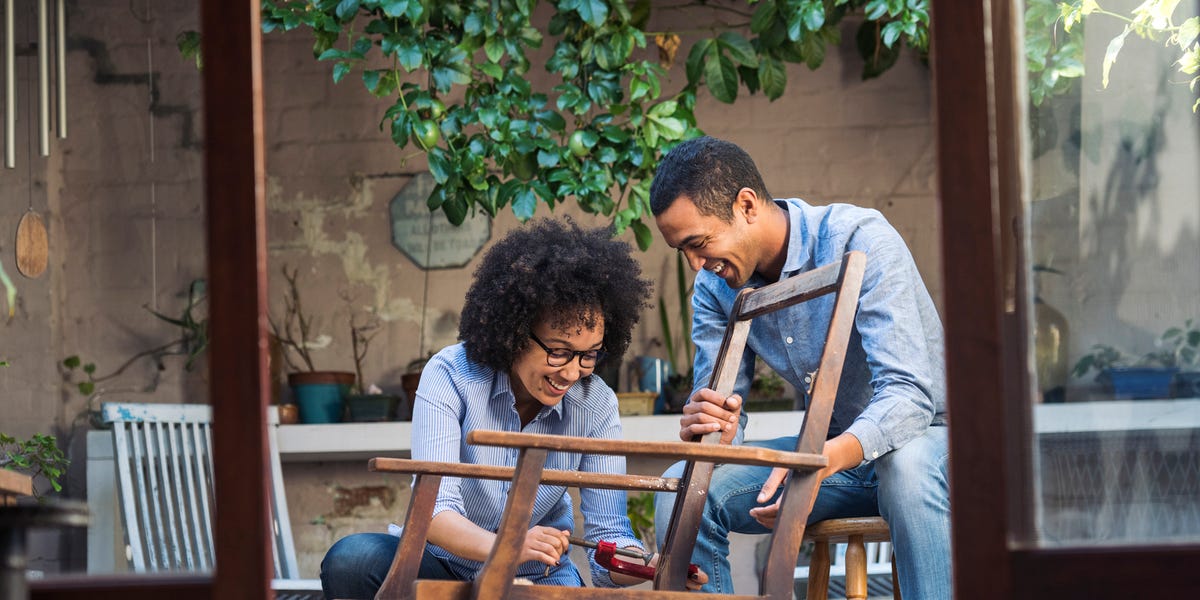 [ad_1]

Summer weekends bring the thrill of yard sale season. Vintage finds can lend so much warmth and history to your home, but there's a fine line between a piece having charming patina and it being so scuffed it looks shabby (and not in a chic way).
Stocking up on a toolkit of restorative products like Furniture Clinic's line of wood and leather-savers can make that bargain chair or armoire worthy of a front-and-center spot in your home. Breathe new life into your second-hand furniture finds with this advice.
How To: De-Gunk Solid Wood


Anything made of solid wood, as opposed to thin laminate or particleboard, is a great candidate for restoration — but what to do about that weird sticky residue obscuring the finish?
That tacky feeling that you can't seem to clean away is almost always built-up furniture polish or wax. Use a product like Furniture Clinic Wood Cleaner, recipient of the Good Housekeeping Seal, to remove it. Follow Furniture Clinic's detailed instructions, but know that for extra oomph the brand recommends applying the cleaner undiluted, applying it in a circular motion using a clean cloth. In addition to polish residue, the cleaner can also clear away odors like smoke and stubborn water rings. So don't pass over that otherwise perfect coffee table — it's easier to fix than you'd think.
How To: Clean or Switch Out Hardware
Never underestimate the power of drawer pulls and knobs. Like accessories for your furniture, the right ones can elevate the look of the entire piece. So, if you're saving with a budget-friendly garage sale find, splurge a little on new hardware. Vintage-inspired glass knobs, bone drawer pulls, or painted ceramic handles can add a lot of personality with your choices, while sleek brass options infuse a modern touch.
What if you love the hardware as is? If you score a dresser or nightstand with brass fixtures, a little elbow grease and patience can restore their former luster. There are a number of home remedies, including vinegar or lemon juice, that can bring back that brilliant glow and offer a so-satisfying before-and-after.
How To: Update A Funky Dresser
It's often easy to find a great chest of drawers that is much cheaper and better quality than what you'd find new in the stores. Don't dismiss a stylish version with good lines because of imperfections on the drawer fronts. Instead, use a temporary wallpaper to cover them. With tons of patterns to choose from — marble, bold florals, and even cool textured versions like grasscloth — you can add a lot of interest without breaking the bank. Measure carefully and cut using a sharp utility or craft knife to make sure there's no overhang or messy edge. Use a credit card to smooth out any bumps on the surface.
How To: Restore a Faded Leather Chair
As a natural material, leather goes through a lot of changes over the years. It can dry, crack, lose its color, or absorb grease and oils from skin.
Grab another Good Housekeeping Seal product, Furniture Clinic Leather Re-Coloring Balm, to add richness back to faded leather, making it softer and more supple along the way. Deep clean the leather first for best results, and be sure to apply the recoloring balm in a circular motion, then buff off any excess with a clean cloth.
How To: Refinish and Paint
If the material of your piece isn't worth salvaging, don't be afraid of a coat of paint, which can camouflage any number of flaws. The prep is everything: Remove all hardware and sand down any textural imperfections until the surfaces are smooth (or as close to it as possible). Use a medium-to-fine grit sandpaper and wipe away any dust residue.
A high quality spray paint will eliminate brush strokes and cover any intricate carvings or details evenly. Just be sure to use a light touch and let each layer dry between coats to avoid any unsightly drips.
Happy treasure hunting!
Caylin Harris is an Emmy-nominated producer, writer, crafter, stylist, and branded content creator. Follow her on Instagram @caylinharriscreative
[ad_2]

Source link