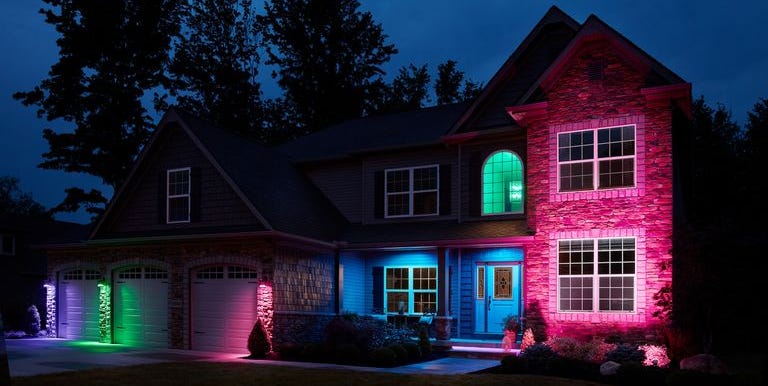 [ad_1]

Taking a party outside makes everything more memorable, whether you're hosting a family reunion barbecue or an al fresco birthday dinner with a restaurant-worthy menu and drinks.
For some quick inspiration, we've rounded up seasonal ideas for making your backyard feel like a destination for friends and family. From warm lights you can program for custom illumination to an easy way to bring fresh herbs into everything you serve, these tips will have your guests asking one question: When can we come back?

1. Use a Smart Plug for Outdoor Lighting
When the sun sets, having plenty of outdoor illumination is a must for both visibility and atmosphere — just think about the way a string of twinkling lights or a whimsical rainbow instantly makes the evening feel special. With the GE CYNC Outdoor Smart Plug, you can control your outdoor lighting setup via your phone or a smart home assistant. It's easy to adjust on the fly or to set a schedule, with lights getting dimmer or brighter as the night progresses. The smart plug also makes it easier to control multiple strands of fairy lights without having to walk around unplugging them all at the end of the night.
2. Serve Garden-Inspired Drinks
An on-theme interactive bar setup helps guests break the ice and lets everyone customize their own cocktail or mocktail for kids and nondrinkers. Fresh herbs add depth and flavor to even the simplest drinks — pick three herbs for garnishes and place them near the drink station in a bright set of outdoor planters for a pop of patio color, then add a farmer's market-style chalkboard sign announcing what each one holds. Invite guests to pick their own fresh herbs and invent on-the-spot signature recipes, like lemonade with a sprig of lavender or iced green tea muddled with fresh mint or basil leaves.
3. Set Up A Fire Pit To Gather Around
There's something about a backyard campfire that just beckons gatherings and making group memories. Upgrade a scrappy DIY setup without comfortable seating in favor of a simple stone fire pit that won't take up a ton of space, and add Adirondack chairs in a durable waterproof material. This more inviting area will not only make for a more appealing hangout, it also elevates seating for an outdoor living room vibe.
4. Add Colorful Lights for Different Moods
Color goes a long way towards creating an atmosphere. The GE CYNC Full Color Direct Connect Outdoor Smart Bulb shines bright in a full spectrum of vivid colors, allowing you to make endless combinations. They sync with an easy-to-use app, to allow you to customize the intensity, duration, and, of course, vibe. The GE CYNC App can also act as a single control for all of your smart home products, giving you total control from your phone. Use it to adjust to smart bulb to red, white, and blue for the 4th of July, or use soft pinks and purples to highlight architectural elements of your house during a housewarming.
5. Take Your Kitchen Outside
Amp up your offerings and the interactivity factor with the addition of a crowd-pleasing pizza oven. Everyone will love coming up with their favorite topping combinations from your spread — classic pepperoni and mushrooms, pesto with grilled chicken. Award prizes to the winners and establish a new annual tradition. If Southern-style barbecue is your thing, invest in a smoker and invite guests to choose different proteins for a monthly group cookout.
6. Create a Living Photo Backdrop
A dedicated spot for selfies, group photos, and other share-worthy snapshots automatically makes a party more fun. Create a living photo backdrop using hanging planters for a leafy alternative to a two-dimensional hanging backdrop. Display a few in different sizes from your pergola or patio roof, or set up a table with seasonal accessories like leafy garlands in the fall to use as props. Don't have a green thumb? Try a faux-boxwood wall, and illuminate it from below using a CYNC smart plug and bulb combo to create golden lighting that looks far more expensive than it is. When the party's over, the wall can add lasting ambiance to your patio or section off a quiet nook for reading and napping.
[ad_2]

Source link