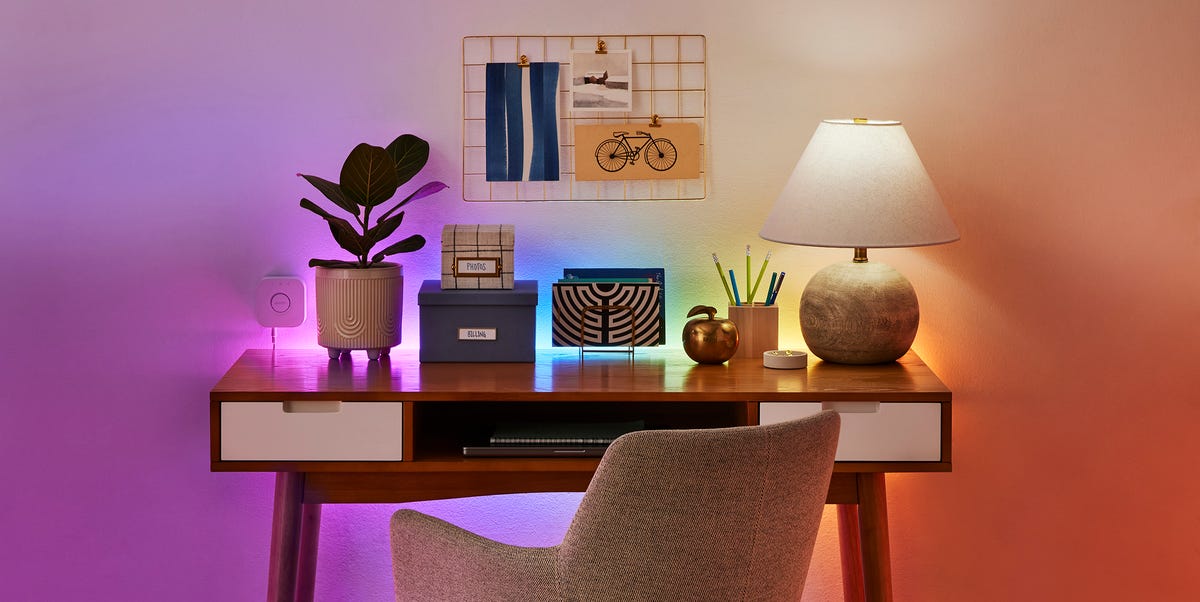 [ad_1]

Working from home presents a lot of challenges — namely, the fact that your comfortable bed, super-cuddly pup, and smart TV with all your favorite streaming services are mere steps away. A snooze-inducing space may not be the best for your productivity. A quick curation and creative thinking to personalize your WFH space and fuel creative thinking can also help keep you focused.
All it takes are a few simple styling tricks, from adding key organizational accessories to setting the scene with color-changing smart lights from Philips Hue. Check out these dynamic setups for tips on how to turn your desk into your favorite part of the house.
For focus
Decluttering your workstation is an easy way to help maximize productivity and reduce distractions. Similarly, quiet lighting and sleek lines can also enhance your focus. Simplify your lighting with a slender Philips Hue Signe Table Lamp. It blends multiple colors together to paint the walls with a unique gradient for a calming ambient light.
Level up a regular lamp with a Philips Hue smart LED bulb, which can emit different shades of white and colored light depending on your needs or mood — use a bright task light for writing or a warm orange for after-hours emails. Keep a Philips Hue Smart Button on your desk so you can turn both lights on and off with a single click. You can even program it to turn on your preferred color and brightness based on the time of day.
When you're comfortable it's easier to concentrate, so it's worth creating an ergonomic setup with a laptop stand, wireless mouse, and supportive pillow for your chair. Add mood-boosting personal touches, like a potted succulent, as well as a bulletin board to help you stay on top of your to-do list.
For inspiration
A vibrant setup can help spur out-of-the-box problem solving. Let your inner maximalist run wild by surrounding yourself with everything from abstract prints and unique floral arrangements to a bold, textured throw blanket in your favorite shade. Incorporate even more color by using the Philips Hue Go Portable Light and Philips Hue smart LED bulbs in the space.
The brains of the Philips Hue smart lighting system, the Hue Bridge allows you to connect and control up to 50 lights and accessories. Simply plug it in and use the Philips Hue App to set routines and easily personalize your lighting using pictures, custom colors and varying brightness levels.
Feeling uninspired during a painting or brainstorm session? Switch on some blue light. Struggling to focus while editing your latest short story? Try red. According to a study by the University of British Columbia, blue can boost our ability to think creatively while red can help improve performance on more detail-oriented tasks.
For organization
You don't have to waste time looking for supplies when everything has its own place. Keep your workspace neat and tidy with storage cups, folder organizers, and stationary boxes. You can also clip loose papers and your running to-do list onto a wire wall frame for visibility. Spruce up the space with a small leafy plant in a chic ceramic pot.
Need ambient light that doesn't eat up desk space? Tuck a Philips Hue Lightstrip behind your desk. You can personalize it based on your needs by cutting it down to the right length or extending it up to 10 meters with connectors. Turn one of your favorite lamps into a smart lamp with a Philips Hue LED bulb, and easily control all the lights in your home office with a Philips Hue Smart Button.
Art direction and production by Arminé Altiparmakian and Sabrina Contratti. Photography by Cody Ulrich. Prop styling by Karin Olsen.
[ad_2]

Source link